Philosophy for a New Civilisation
"A path of duty is a path of beauty". These are the lovely words of Professor Dr. Henryk Skolimowski who created eco-philosophy way back in 1974 and made it a movement of ecological reconstruction. This eco-philosophical movement is one of the unseen movements of our times. It is going on, going on and going on unceasingly, but is not taken note of by people seriously. Nevertheless it is a movement being constantly fuelled by Henryk Skolimowski who has seen 78 springs of life and who, let us wish, would see many more fragrant springs in the world. Let us be hopeful, he would witness a humanity blooming with happiness, sanity and hopes in a world everlastingly blossoming with fullness of life.
Our world as of today is largely thanks to the philosophies created out of trials and errors. A diversity of philosophies can be found in the world. Every community, every society, every area, every region and every country has specific philosophy, but some elements of all philosophies are common. In other words, some common sense is an essential ingredient of every philosophy. Philosophy lets everyone know what is right, what is wrong; what is beautiful, what is ugly; what is the right path, what is wrong.
Ever since the first seed of eco-philosophy was sown in the fertile soil of the Earth by Professor Henryk Skolimowski in 1974, the world has undergone sea changes. At that time no one had expected such a spell of ecological crises as we witness today, except that Rachel Carsen's Silent Spring in the 1960s and Stockholm Conference of 1972 had sparked some debate on global ecological crises. In the Garhwal Himalayas of India, the Chipko (Hug-the-trees) movement also did generate considerable interest in saving the forests in the 1970s. In 1981, when the first book on Eco-philosophy was brought to the world by Henryk Skolimowski, a spurt in global debates on ecology and environment was being witnessed.
Philosophy for a New Civilisation
The new generation is not responsible for the increasing ecological paucity of the world. The old generation is. It is the old generation that has been robbing the Earth of its natural resources to the extent that now the situation is culminating into global warming, climate change, uninhabitable habitats, species extinction, and the likes. New generation, however, is responsible for their future, the sustainable future. Future is the unending target of the present time that is approaching from the past. Future is the destiny of time. Future of the time would be there, but whether with humanity or not is the question. Sustainable future is the one that would be witnessed with blossoming humanity.
How can the sustainable future be attained? How can we be blossoming and how can our hopes be flowering through next generations into the course of evolution through sustainable future? Henryk Skolimowski's book on Philosophy for a New Civilisation could be of substantial help to enlighten the new generations to a path of beauty, hopes, ecological affluence, symbiosis with the brethren species, happiness, peace and sustainability.
Skolimowskian eco-philosophy celebrated the new century and the new millennium in altogether a different way. In 1991 Henryk's landmark book Dancing Shiva in the Ecological Age had further stirred the conscience of concerned human beings. This was the time when deepening of ecological crises had begun to be pronounced into global warming. Henryk's message for the world, as part of the title of his work indicates, was to usher in an Ecological Age. The sub-title of the book – Heralding the Dawn of the Ecological Reconstruction in the 21st Century – further unfolds Henryk's philosophy of absolute commitment to save, enhance and sustain life and the living planet which is possible with the coming of the Ecological Age. "We need a new cosmic dance", Henryk writes in his Dancing Shiva in the Ecological Age, "The symbol of dancing Shiva is a great metaphor for the dance which we are about to enter…A new dance of Shiva is one of the ecological catharsis, of the healing of Mother Earth…"
I had never before witnessed such a beautiful vision of a philosopher. An Ecological Age! When a cropland's productivity gets impoverished, plantation of few trees would be enough to contain further erosion. When desertification creeps over vast stretches of land, afforestation would do. When there is a state of ecological degradation in the fragile mountain areas, protection and conservation of forests would be effective to restore ecological balance. But when the whole Earth is in jeopardy as a manifestation of rampantly burgeoning greed of a few, ushering in the Ecological Age is not only necessary but an imperative of our destiny.
When the Dancing Shiva in the Ecological Age came into being the world was undergoing the so-called liberalization, privatization and globalization processes and economy was occupying centre stage of all world orders with the whole world being increasingly regarded as a market. Ecological issues cannot be resolved in an environment which is being created out of political hopelessness.
Sustaining interest in eco-philosophy, an inextinguishable commitment to restore the eco-balance of the Earth and transcendentally creating eco-philosophy (at this juncture of time when the world gone mad) was a challenge. Henryk Skolimowski accepted this challenge. He did not give up hope. As the 20th century came to a close, political economy set for axing the roots of ecological thinking went on strengthening, Skolimowskian eco-philosophy was blooming like a lotus in the mud. Skolimowski's Philosophy for a New Civilisation came as a unique gift at the dawn of the Third Millennium.
Philosophy that May Change Your Life, Your Destiny, Your Earth, Your Cosmos
The matter about the book on its jacket reads: "This book is an invitation to another kind of philosophy, which is not abstract, dry and indifferent to life, but compassionate, holistic, caring and guiding life. Basically, it is a book about a philosophy which may change your life, if you take it seriously." True. I have read it alpha to omega; I have to read it again, perhaps many more times. Every time you read it, every time you would feel to be renewed, to be extremely content with life, to feel as if you drank elixir of life, as if you are in this world for a great cause, as if you are a god in yourself.
In a rather long Introduction of the book, Henryk at many places criticizes science. He asks the proponents of science, "Why are the early promises denied and forgotten? Where was the logic, reason and rationality at that time when science and progress were making grand promises that everything would be well? ... Now, which of the present champions of science and progress are going to respond to our charges…the charges of deceiving the whole civilization? Or will the priests of science continue to pretend that all is well? Will the process of arrogance and deceitfulness continue?"
One very touching paragraph Henryk writes which I cannot help quoting:
Imagination is a spiritual force. It is a superior expression of human intelligence. Making weapons of mass destruction is an inferior expression of human intelligence. Hence our choice: to follow our inferior intelligence and bring more weapons and more destruction to our environments and our inner lives; or to follow our superior intelligence and create the world in which our spiritual destinies will be fulfilled, and natural environments will be healed.
The world traditionally believes that philosophers are joyless and philosophy squeezes joy out of life. The philosophers are also to blame that they cultivate gloom and also themselves look gloomy. Henryk is not of that sort. He creates radiance of joy which can be read clearly written on his glowing face, which can be read in his philosophy. An excerpt from the book:
The Universe was created amidst the joyous celebrations of the original potency of the Cosmos. And so it is presented by the Upanishads, where Joy was born before gods, who came to existence only later. We can return to Joy through the acts of thinking and of being, which are infused with light and guided by light. From Joy we have come, to Joy we want to return.
Living in the past is just like living in the fools' paradise. But if we fail to draw lessons from the past, we cannot make our future bright and then our present becomes a fools' paradise. Skolimowskian philosophy links our present with the past and the future.
Skolimowskian eco-philosophy is like an evolutionary tree. It has deep roots in the past, but its canopy is advancing towards future. It is rooted into Earth, but explores the vastness of the Universe. In the Gita, Lord Krishna compares himself with a banyan tree. A fully mature banyan tree narrates the whole story of evolution. So does Henryk's eco-philosophy. This eco-philosophy has reverential attitude towards this tree of life and does its best to save this tree and to help it to evolve, continuously evolve and transcendentally evolve. This philosophy enjoys the beauty of the whole universe, creates joy out of everything and celebrates the evolution.
A Song of the Gita, a Mahabharata in Skolimowskian Eco-philosophy
The Philosophy for the New Civilisation bids farewell to the Second Millennium and spells its fragrance in the Third Millennium. Skolimowskian eco-philosophy does not just sing the glory of the past, but also attempts to ensure a sustainable and a joyful future to be witnessed by blossoming humanity. In essence, it is futuristic in its approach but also does not annex itself from the past. A writer would be ignorant if he/ she does not reflect the dynamics of time in his/ her writings. The Philosophy for the New Civilisation "looks back at the past" in its Part I and "looks forward to a desirable future" in its Part II. What a tune of time that emerges on the canvas of the book! Science, technology, human values, sanctity of life, education, eco-politics in the background of the past; and then world as a sanctuary, ecological Dharma, reverence for life, ecological mind, new logos for the new civilisation, and finally, from democracy to cosmocracy – the Philosophy for the New Civilisation is a tree of evolution in itself.
Skolimowskian eco-philosophy touches the core of heart, makes osmotic absorbance into the mind, mingles with the soul and enhances life. It creates reverential attitude towards Mother Earth and appreciates the vastness, beauty and balance of our cosmos. It creates balance within and guides to create balance outside. It sows the seeds of karma to reap the harvest of ecological ethics, ecological justice, ecological affluence, ecological balance, ecological mind and ecological thinking.
I would not like to compare Skolimowskian philosophy with other philosophies. For, it is real, it is eternal, it would not change with time and space. It is relevant today and it would be relevant for ever. It has searched the core of truth and has put the same in front of us. A philosophy that gets outdated is no philosophy. Skolimowskian eco-philosophy is ever green. It has deep roots into the realities of our world, of the past, present and future times, and this is the philosophy that assimilates cosmic energies into the tree of life. Skolimowskian philosophy will never wither away, nor will it ever be dim or cast darkness. It is a constant source of wisdom, inexhaustible source of light. It has capability to reconstruct a vibrant, happy and sustainable world.
In the Gita, Lord Krishna shows his universal form to the bewildered Arjuna. Skolimowskian eco-philosophy too looks at every individual as a microcosm. The Hindus are of the opinion that the Gita is the greatest philosophy of the world. It is the immortal message of Lord Krishna, the first philosopher of the world, from the battlefield of Kurukshetra to humanity of all ages. The philosophy of the Gita has been teaching the humanity for ages and it would be held with reverence throughout all times to come. The Gita discovers and absorbs the truth that never changes according to time and space. Henryk's eco-philosophy has come into being at the time when the whole Earth is in perilous state, a situation worse than any war. It discovers, absorbs and delves into truth of our times, which is not going to change in any epoch of time. If truth changes according to time and space, it cannot be said to be a truth. Truth has no contamination, no question mark, no shadow of doubt whatsoever.
I am not comparing Skolimowskian philosophy with the Gita. The beauty of a philosophical epic is this that it evokes creativity, transcendence, and it spells beauty. It does not close options of further creativity. It rather encourages people to excel and be in transcendence of creativity. An epic of immortal philosophy respects evolution do its work, do its duties. If the present flourishes with the most desirable wisdom, the future would definitely be richer with wisdom. Skolimowskian philosophy is Skolimowskian philosophy, not this and that kind of philosophy. It is pregnant with wisdom, truth and light and it would keep guiding civilisations in all times to come. The Gita enlightened the world in the Dwapar Yuga and is enlightening till date and will be enlightening for ever. Skolimowskian philosophy came into being in the Kali Yuga (a little over three decades ago, which is too small a timeframe to help a philosophy have its everlasting spell) and will be reflecting truth and light in the world in all the times to come.
Skolimowskian philosophy absorbs all the elements the life is made up of, i.e. Agni (the fire or energy), Vayu (the atmosphere), Jal (the water), Prithvi (the Earth) and Aakash (the cosmos), it reflects on all the life forms, holistically articulates all aspects and walks of life. It writes on birds, on ethics, on aesthetics, on arts, on science, on society, on politics, on education, on beauty, on history, on people, on society, on nations, on mountains, on rivers, on the world, on Milky Way, on the universe, and on everything that is heard, spoken, seen or imagined and nothing is left unwritten, unanalyzed. What not. Everything is there in the philosophy of Henryk. The first principle of ecology is: everything is connected with everything else. Henryk's philosophy also connects everything with everything else. It is holistic, it is all-in-one. It unites everything with everything else, it integrates everything with everything else.
The Mahabharata is the largest epic humanity has ever been gifted with in any age. It embraces everything what has ever happened at any point of time and everything that can possibly happen in future. So is Skolimowskian philosophy. It embraces everything in individual, everything on Earth, everything in the universe. And it holds everything together, like the universe does to the all planets, all stars.
The Philosophy for the New Civilisation is yet another transcendental product of the Skolimowskian philosophy. This book, in substance, constructs a path of duty, which is a path of beauty. Beauty, in the words of Skolimowski, is intrinsic, and essential to the very coherence, cohesion and existence of the world.
Education for the Real World
The contemporary world of ours is dictated by economism, which, according to Skolimowski, is "a philosophical doctrine which claims (implicitly or explicitly) that economics – the bottom line economics, that is – determines the structure and the ethos of society and should be unconditionally obeyed for it is our god". The liberalization, the privatization and the globalization (LPG) processes are the climax of capitalism that paves way for maximum possible exploitation of nature. Profit, profit and profit is the only mantra of economism. Skolimowski regards economism as fraudulent because "it impoverishes us as individual existential beings, cheapens us with regard to what we can become, it robs us of our spiritual heritage." Economism is the very core of our education system of the day. Ecology, not economy – in actual sense – is of absolute or critical significance. No economy can sustain without getting nourished by ecology.
Education is a pivotal means to reshape the humanity and the world. But the conventional education which has been one of the primary forces to bring the world to this state is not. The new civilization needs new education. Our current education pattern does not teach us how to be human, but how to be a consumer. Henryk quotes Plato, "The direction in which education sets a man will determine his future life." It is as true today as it was in Plato's times, says Henryk. "Ultimately all systems of education, as well as systems of philosophy are about how to be human, not to be a consumer", Henryk provides substantial meaning to education. He further suggests, "We must not misread our mandate: we are here to lead our young to be deservedly human and not to manipulate them for the sake of the status quo, which always is undermining its own existence."
Education can change the destiny of the new civilization. But not the kind of education the present young generation is being given the dose of. The right kind of education can help us construct the real world. Ecological reconstruction should be at the heart of our education system. Skolimowskian eco-philosophy guides us to lead to an Ecological Age. The right kind of education as advocated by Henryk Skolimowski would be a vehicle to help us usher in a real world. An excerpt from the Philosophy for a New Civilisation:
Ecology is about a new shape of life. Ecology is about the dignity of life. Ecology is about the dignity of human work. Present economics is a suicide economics, not a proper accounting of our household. We have been incurring an enormous debt to nature, and asking future generation to foot the bill. Future generations are refusing to do so. Future generations speak with the voice of eco-wisdom and eco-values. We were not brought to this world to lead an alienated, estranged, deracinate and uprooted existence. We were brought to this world to celebrate the glories of the cosmos and to live in solidarity with other beings. Genuine and significant education must be one which helps to live life fully, meaningfully, with inspiration and with a modicum of grace.
Evolution of Democracy into Cosmocracy
Eco-cracy, Eco-democracy, Cosmocracy. Have you heard these words before? Definitely not. These have been coined by Prof. Henryk Skolimowski. Eco-cracy for him means 'recognizing the power of nature and of life itself, means observing the limits of nature, designing with nature, not against it, creating ecologically sustainable systems, reverence for the planet– not its continuous plundering'. He has his fingers on the pulse of evolution. He stretches his imagination, broadens his vision and puts forth the concept (I call it a Theory) of Cosmocracy. "We need new concepts to acknowledge the world we have created", Henryk writes, "Cosmocracy is one of such concepts – one of the new windows through which we can look onto the new worlds". This is Henryk's 'proposal for re-arranging life in new life-forms – out of which a suitable, life-enhancing, non-exploitive forms of government will naturally follow'. Henryk believes in the power designed with nature and a sense of reverence for natural systems. He calls this system eco-cracy which 'aims at sustainable systems which can support and bring wellbeing to human species and other species in the new millennia'. He does not think of five-year or ten-year plans or time-bound programmes. He thinks of millennia. He does not think merely of human race, but also of welfare of all species on Earth. This is the real path to sustainability. So interesting, so stimulating and so inspiring! The following lines from the Chapter of the book 'Cosmocracy: As the Next Stage in the Development of Democracy' are worth quoting:
Universal democracy, when it is extended to all beings, becomes Cosmocracy. Cosmocracy simply signifies the recognition that all powers come from the cosmos. Celebrating the cosmos as the power-giver leads to a political system which is rooted not in one-sided notion of physical power, nor in the idea of Democracy for a select few, but in those tremendous forces which brought life and human societies to existence. Our global ecumenical thinking must inform us that we are all connected within the stupendous tapestry of the evolving cosmos. This recognition must inform us that seeking justice, freedom and good life cannot be confined to a few select societies. Cosmocracy is Democracy for the entire cosmos.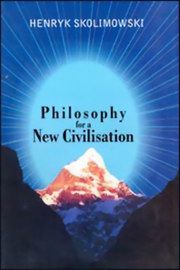 A PATH OF DUTY IS A PATH OF BEAUTY
Skolimowski an Philosophy Enlightens the New Civilisation to a New World in the New Millennium
An essay about the book Philosophy for a New Civilisation by Henryk Skolimowski
(2005, Gyan Publishing House, New Delhi, India; 300 pp., ISBN: 81-212-0853-X, Rs. 790/US$20 http://www.gyanbooks.com)
Vir Singh
Department of Environmental Science
College of Basic Sciences & Humanities
GB Pant University of Agriculture & Technology
Pantnagar – 263145 (Uttarakhand) India
Pour être informé des derniers articles, inscrivez vous :